Just a short article today, because the answer is quite straightforward really. It's worth noting that "open" and "closed" have the same definition in all sports, not just squash. So this article could easily apply to tennis, badminton or padel etc.
Open Squash Tournaments
An Open tournament means that anybody can enter. However, there may be restrictions regarding age or standard. For example, a junior might not be allowed to enter a senior event. Or a lady might not be allowed to enter a gentlemen's event. Another possible restriction might be the separation of pros and amateurs.
It all depends on the tournament director, sponsors and other stake holders; the club for example. The main point is that there are no limitations regarding entry.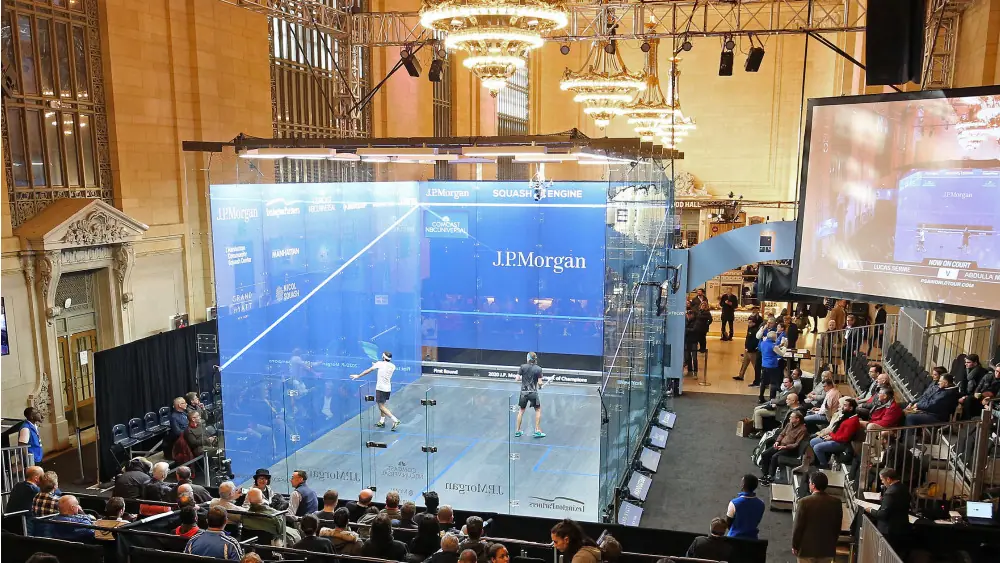 The J.P. Morgan Tournament of Champions in New York
Closed Squash Tournaments
A Closed tournament means that entry is restricted in some way. The three main cases would be location and club. For example, in the United Kingdom, the land is divided into "counties". Each county runs their own tournament for people who were born in that county or have lived in it for a period of time (I can't remember how long, but almost certainly over 2 years). Where you live the idea of county might be replaced with State, Province, Communidad, Prefecture etc.
The next case is related to land, but this time it's nationality. So for example, the "British Junior Closed" can only be entered by juniors who were born or live in the United Kingdom (ignore the difference between UK and Britain for this).

The All England Lawn Tennis Club not the Wimbledon Tennis Club!
Video Analysis
Take your squash to the next level today with my video analysis service.
The final case is a Club Closed, which can only be entered by members of a club. I remember a story of a man who went to the bookies (betting/gambling shop) to place a bet on himself to win the "Wimbledon Tennis Club Men's Championship". The person taking the bet thought he meant the "All England Wimbledon Championship" and asked how he was allowed to enter, to which the man replied "I am a member and therefore allowed to enter". They gave him 1,000 to 1 odds because they thought a pro tennis player would obviously win, and he placed a bet of £100. He lost in the final, but if he had won, he would have received 100,000 Pounds!
Graded Tournaments
I've written a separate article about Graded Tournaments and these are almost always "open" tournaments too. They are a great introduction into competitive squash, so take a look if you think you want to try one.
Final Thoughts
The squash community is a friendly place and whether you enter an Open or Closed tournament, Graded or not, you will receive a warm welcome, meet some great people and play squash (not necessarily great squash though!). Entry fees are generally good value and here in The Basque Country, where I live, you get a T shirt and other benefits, all for about 10/15 Euros - great value!
If you are new to squash and have a question that seems silly, don't hesitate to email me and I'll reply and maybe even write a short article like this one about it. My email address is at the bottom of this page.
Squash For Beginners Videos