There are definitely differences between brands and sometimes even between batches. Some a deader than others, some more lively. For me, and remember I only make squash videos now, no playing or on-court coaching, the most important two aspects are consistency and durability. Honestly, they should be your most important aspects too, but perhaps you have different criteria.
If you were to buy 5 different brands of squash ball all of the same dot, you would find that unless they are made in the same factory, there would be differences. The better a player you are, the more likely you are to notice smaller difference – purely because you have spent more time playing.
It is unadvisable to keep changing brands of balls, unless you can't find a regular supply. better to find one you like and tick to suing it if you can.
Leagues And Tournaments
The first question to ask yourself is "What brand is or will be used for any leagues or tournaments I plan to play in this season?". Of course, this question is only relevant if you play competitive squash. If you don't, I'll talk about your situation in a moment. It's best to play with that brand because you don't want the shock of having to adapt to a different bounce profile as well as dealing with a new court and opponent. So, find out which brand they sue and buy some of those.
Playing Just For Fun
If you play just for fun then you simply have to see what is available in your area. For example, I live in Spain and Decathlon is the largest sports retailer near me and they sell their own balls. They interestingly sell two types of double yellow dot balls: WSF accredited and not accredited. I found the not accredited balls bounce higher and last longer. The key is not to use shiny balls and use the right ball. If you are playing for fun, play with the ball that makes squash the most fun!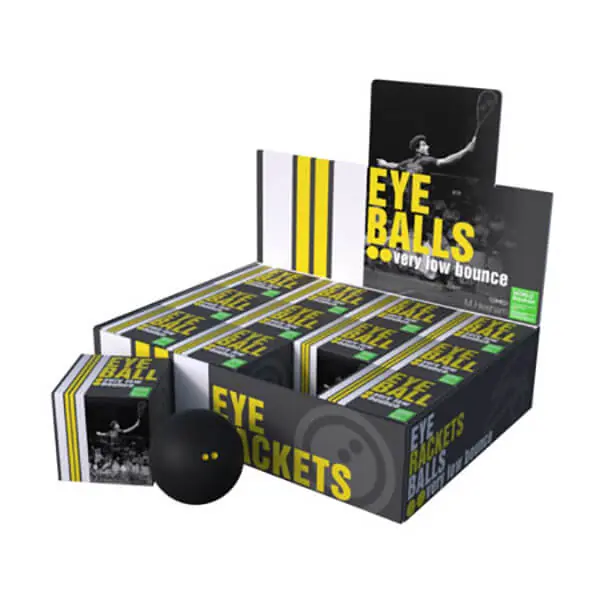 Eye Rackets brand of squash balls
Video Analysis
"...Going in, I didn't know what to expect, but for 25 Euros, Phillip's video service is incredible value..."
Dunlop: The BIGGGGGGG Daddy
I don't know for sure, but it's got to be around 90% of leagues around the world use Dunlop squash balls. All PSA tournaments use them as well. In general I like them. People have complained that the consistency has dropped, and that could be true and they definitely feel different when bought over the years.
They have been making or at least selling balls for longer than pretty much any other company and have, at least in Europe, a good reputation. Different countries within Europe may promote other brands, for example Head might be popular in Austria.
Other Brands
Most squash brands, at least ones that sell rackets, also sell their own squash balls. I've also wanted to buy all the different brands I could and compare them in a video, but it's not as easy or cheap, as I had hoped. Who knows, maybe I'll do it one day. My problem is that all the brands I have tried were bouncier than Dunlop and I actually want a deader ball. I'm going to try really hard to get hold of the High Altitude Green dot Dunlop squash ball next year and see how different that is.
Anyway, back to other brands. By all means buy and try them. To my knowledge, and I could be wrong, all other brands have their balls made for them, except Prices and Dunlop. That's not a criticism, just an observation. it might mean that quite a few brands are all amde in the same factory and just have a different logo printed on them.
Final Thoughts
Don't worry about the brand unless you are going to play competitive squash in leagues and tournaments. Most popular brands make fairly good balls, so it's just a case of not worrying too much, buying what you can and making the final decision yourself. If you don't like a brand, don't be afraid to stop using it. There's no "Squash Ball Police" to arrest you! As with all your squash equipment, as long as you are happy, that's all that matters.
Watch This