A squash exhibition match can take many forms, but essentially it is a non-official match between two professional players. They are paid to play by the club or part of their sponsorship agreement. Members, and sometimes non-members, often have to pay for tickets, but that's not always the case. The evening might start with some cheese and wine meet-and-greet session, where people can meet the players and have their photograph taken with them.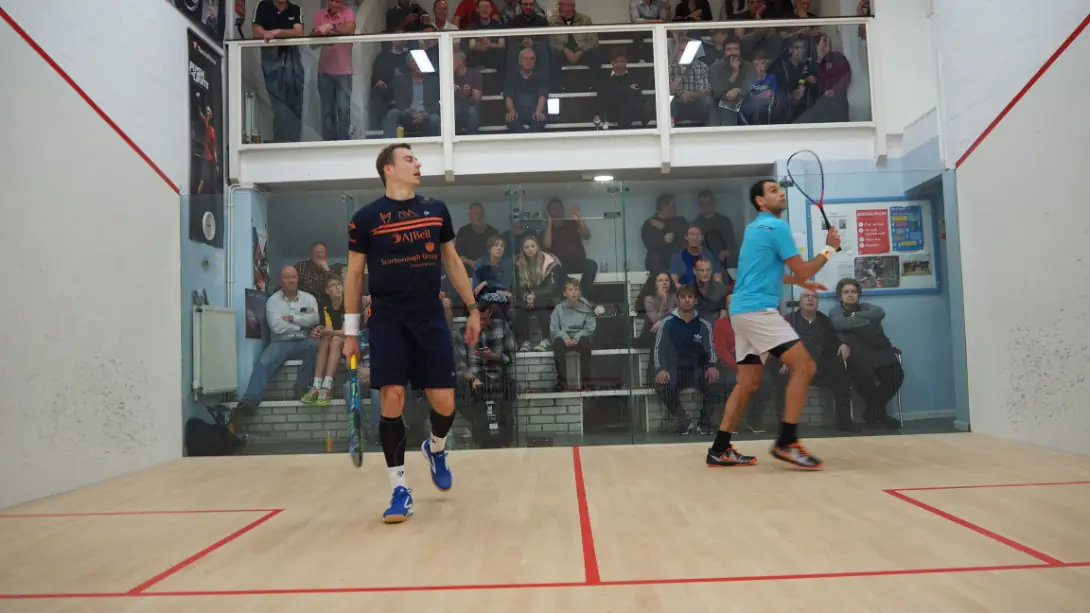 A real exhibition match: Nick Matthew versus Mohamed El Shorbagy
Then there could be a questions and answer session held in front of the court, although sometimes this is done after the match. Most times a few club members get to play a game with one of the players and those people either pay more for that privilege or are chosen from a list. Those games form part of the warm up for the event.
Finally, the main event starts, which is the two pros playing a match. It's not a competitive match in the sense that it's not part of a tournament or inter-club team match, but that's not to say that it's not competitive. In some cases there is prize money for the winner. In fact, I remember watching Jahangir Khan versus Jansher Khan in a 10,000 Pound, winner-takes-all "exhibition" match in Surrey, UK, many years ago. Rahmat Khan kindly gave me tickets and I took one of my pupils along with me. We watched from above the front wall, yes, above the front wall and it was fantastic. Jahangir won 3-2 in a very close match.
This is one of the benefits of joining a proper squash club, and I recommend you do a little research to see if one is near you. I want to be clear what I mean by "proper" squash club. Many facilities have squash courts, but a squash club is one that exists to provide its members with lots of activities to participate in. Club nights, coaching, tournaments, teams etc. There are plenty of places like this and unlike a public sports centre, they are often owned and run by squash players, although that brings its own problems and is becoming less common, at least in the UK.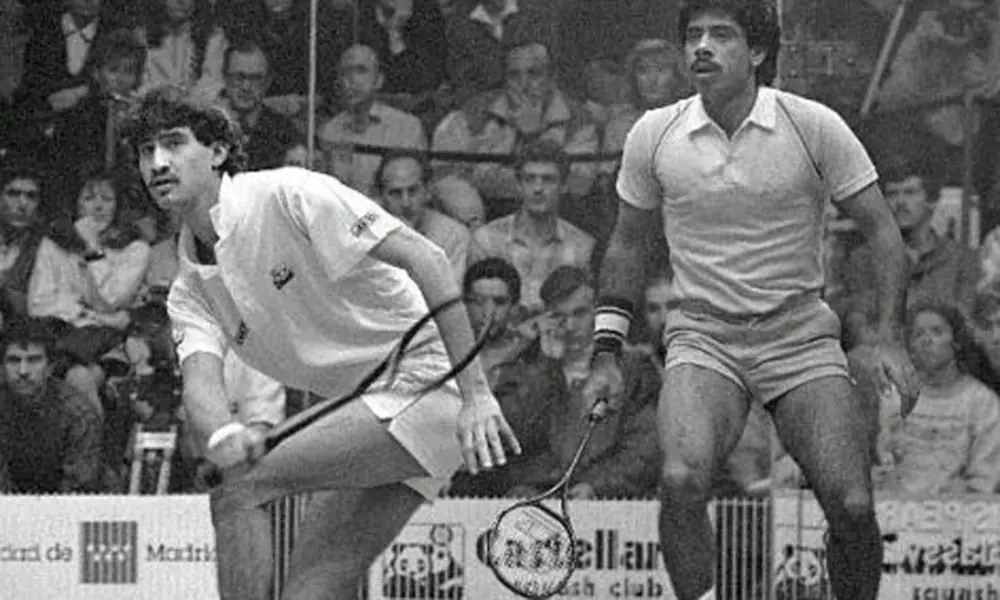 Jansher Khan versus Jahangir Khan
Video Analysis
Are you aware of your squash weaknesses? Maybe it's time to find out. Try my video analysis service.
Occasionally, I have seen doubles exhibition matches played, sometimes as part of a singles event, and sometimes separate. Even though I said that these exhibition matches are often very competitive, they are also a lot of fun,. Players will attempt shots that they wouldn't normally do and try to ensure the crowd have a lot of fun. In fact, crowd interaction is encouraged and unless it's a very serious exhibition, crowd cheering is encouraged.
Final Thoughts
If you ever get a chance to watch a squash exhibition match I highly recommend it. You'll have a lot of fun, get to meet some very nice squash pros and then get a close view of the incredible athleticism of professional squash players.
Watch This